The TURBO Difference
Turbo Resources® was founded in 1984. A few years later, we signed our first consignment and have been dedicated to serving our clients ever since. Today, we are a team of dedicated industry professionals, experts in our field, trusted by our clients, and on a mission to lead the next wave of innovation in the aeronautical aftermarket industry. We hold ourselves to the industry's highest quality standards, ethics, and procedures. Decades of strategic partnerships place us among the elite suppliers to the worldwide aviation industry. We serve our airline, MRO, OEM, leasing and broker customers by stocking over 500,000 line items of surplus airworthy rotables and consumables.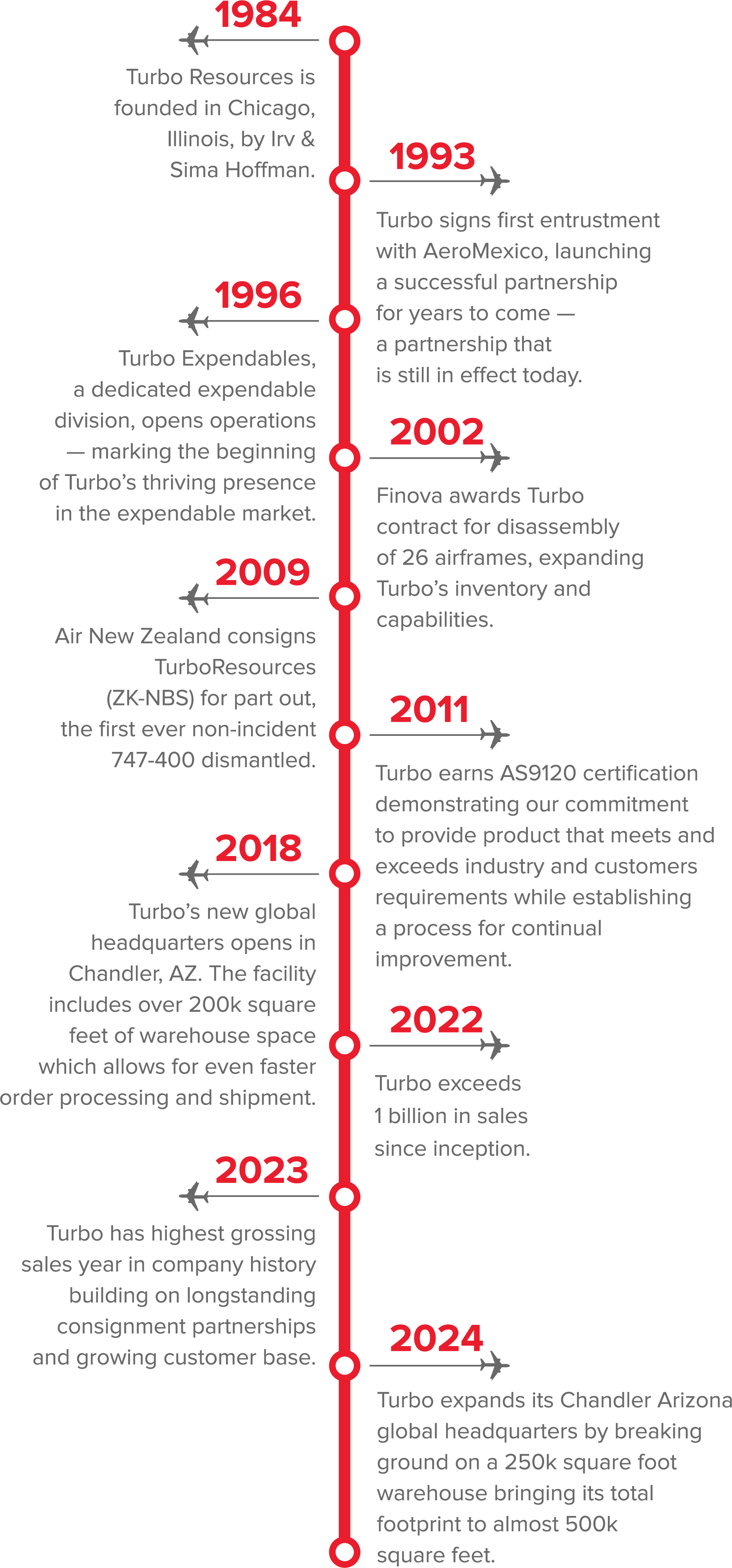 Worldwide Corporate Headquarters
Our global headquarters is located in sunny Chandler, Arizona – less than fifteen miles from Phoenix Sky Harbor International Airport. Newly completed in Fall 2018, our state of the art headquarters encompasses 18 acres with almost 240,000 square feet under roof comprised of 207,000 square feet of warehouse and 30,000 square feet of attached office space. Our warehouse boasts a workspace in which cross functional teams change task priority throughout the day which allows for higher receiving numbers in the morning and faster and later ship times during the afternoon and early evening. Our new office continues Turbo's successful open sales floor layout that fosters communication which allows for exceptionally fast decision making and customer feedback on inquires, pricing and offers. With a roof almost completely covered in solar panels Turbo's investment in its new eco-friendly headquarters will allow continued growth by increasing the available space for partners inventory in house in addition to expanding product offerings for our customers.